Our mission, as an international publishing house, is to help you engage your community around literature, to spark an interest in literacy and literature. Short Edition offers so many random, quick bites of fiction and creative non-fiction, to help patrons, and soon-to-be patrons, learn to enjoy reading. 
The idea of 'creative idleness' by reading for pleasure, can be a 1min, 3min, or 5min moment traveling through another story or realm. Because big ideas are often born in idle moments when reading a short story, poem, or comic strip.
Your library's mission is also to invite culture in many different forms that seem conducive to Short Edition's offer of free short literature to inspire all young, diverse creatives.
How to build a reading culture
Content is key and we have been innovating over the past 12 years with writers worldwide, to help libraries, both large & small, reach this goal and offer various tools to create playful and memorable reading and writing experiences.
Simple, time-saving tools
To make your projects more engaging, fun, and the talk of the town.
Short Edition's hardware solutions are a microcosm of how your library - and city - raise literacy rates and encourage a reading culture.
Shine light on your innovation
Brand your Dispenser, Cube or Disc, in your own colors and tailor your content to your readers. Choose & change collections as often as you like or opt-in to our monthly thematic calendar
Short Edition's Software
The management tool for all project managers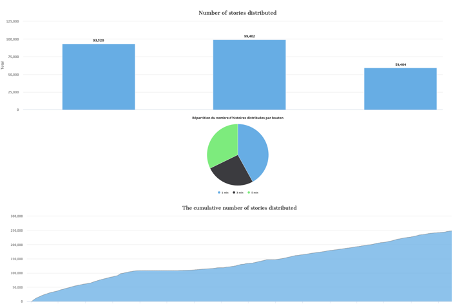 The Short Story Portal, is the software gateway to all of the published content, written by paid writers worldwide, in Short Edition's collections. The Portal is also a tool to curate, edit and publish local content, and it is connected to all of our hardware solutions to make literature accessible, at the push of a button or via QR code. The backend of the Portal allows administrators easy access to monitor devices at a distance, configure content for different audiences instantly, and see reporting statistics on how many stories were offered, distribution per button, and a built-in creative writing platform.
Short Edition's Hardware Solutions
Short Story Dispenser, Short Story Cube & Short Story Disc
The iconic Short Story Dispenser
With the Short Story Dispenser, seek to combine rebellion and innovation to create unplugged community spaces in the library and/or around town. Be guilty of committing random acts of culture!
As part of your literacy and outreach programs, you can also offer free, accessible reading in unexpected places across town while placing Dispensers where your readers are... at the bus station, in a school, at the community center, the DMV, shopping mall, supermarket, or airport... All roads can lead to the library.
Your library can lead the initiative to build an innovative 'storied city,' while also celebrating diversity and fostering inclusion.
Fiction connects and Short Story Dispensers provide libraries countless ways to inspire community engagement and creative connections. 
Enrichment and Civic Engagement
Amplify the Library's Efforts
Los Angeles is a place of innovation and opportunity. As part of that, it is the Los Angeles Public Library's role to provide spaces and programs where creativity can blossom. LAPL Writes is one of those initiatives, encouraging local writers and authors to share their words with the world.
In a city known for its stories, we offer a platform for patrons to share theirs, in their own words, with the world. Short Edition has amplified this effort, by allowing them to delve into the world of short stories as well as participate in writing contests that can allow their stories to be read digitally and through the Short Edition Story Dispensers at our library.
Learn more about the project at lapubliclibrary.short-edition.com
Edwin Rodarte,
Senior Librarian Emerging Technologies & Collections
Los Angeles, California
enrichment and civic engagement
Encouraging a love for reading & writing
We have set up our Short Story Dispenser in the cafe space, so patrons can take a story to read while drinking a coffee. Other patrons pass by the dispenser on their way through the building, and almost all stop to look at the unique contraption, and most pause to take a story. In particular, parents passing by on their way to the Children's section often choose a story, likely knowing they will only have 1, 3, or 5 minutes to read while their kids play. We partner with a local literary organization to fill the dispenser with stories submitted by local writers. Some pieces have been published elsewhere, but for many writers, this may be the first time they see their name in print. Last spring we hosted a youth literary conference called Litcon, and to encourage participation & challenge students to submit stories for inclusion in the Short Story Dispenser. The winners were thrilled to have their stories printed alongside published authors.
Amanda Arthbuthnot,
Librarian - Service Design Lead, Calgary Public Library, Alberta, Canada
The Short Story Cube
The Short Story Cube is a more portable-affordable version of the Short Story Dispenser for librarians & teachers on the go, and Main Libraries love to share them with their branches and neighboring schools. It is a new tool to offer stories on a scroll at the welcome desk, without a library card, and it can be used in creative writing workshops where patrons and students can go home with their printed stories.
The Cube is destined to provide new energy and a fresh beat to intense screen-based learning by allowing librarians to conduct a symphony of stories, at their fingertips, and a new kind of literary pulse.
To help lollygaggers become bookworms by getting kids in the habit of reading short bites for fun and offer educators a tool to teach creative thinking and analysis, with a hands-on classroom or library experience.
Learn more
ENRICHMENT AND CIVIC ENGAGEMENT
The Boulder Public Library system is proud to own two Short Story Dispensers and one fantastic Cube!
We rotate our sharp looking illuminated story dispensers among our 3 branch libraries and when the CUBE is not in our main library's children's department, it can be found traveling to schools, museums, farmers markets and outreach programs all around town. Kids and adults LOVE discovering that a simple wave over a chosen button produces a wonderful piece of written word in the form of new fiction, revered poems, and thematic works. The stories are often printed on a LONG piece of paper--which brings further pleasure. Pay dirt! At the Boulder Public Library, we have showcased our student writers by programming the Cube to offer works by local authors. The interactive nature of the dispensers makes receiving a piece of writing exciting--as exhibited in the hands of some of our young adults, teens, and young readers.
Juliette León Bartsch
Director Marketing & Development,
Boulder, Colorado,
The Short Story Disc
The Short Story Disc is the 100% digital version of our innovative solutions to access all our content, which you select, and readers simply scan one of the QR codes to read as much as they wish on their smartphone. 
The digital experience is just as remarkable, and something memorable as readers access random stories, poems, and comics while discovering the Short Story Disc in a café, waiting room or at the train station.
This solution allows libraries greater reach into the community, encouraging literacy and literature where people are. 
Learn more
Which Solution for Your Objectives